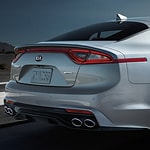 It would be extremely hard trying to find a performance sedan that looks as good as the Kia Stinger. The name alone will send chills up your spine, but there's more. The new Stinger has been designed to provide an exhilarating driving experience. This car sits low to the ground, it's very lean, and its handling is superior.
The Kia Stinger hosts an exterior that's worth its weight in gold. This fastback-inspired design will capture the attention of everyone thanks to its aggressive styling and razor-sharp contours. High-glow headlamps and jewel-like turn signals only scratches the surface to what you can expect. The new Stinger comes in numerous colors, including chroma red, federation orange, pathera gray, ceramic silver and others.
Up to 23 cubic-feet of cargo space is available. On the other hand, you'll have access to at least 41 cubic-feet of cargo space when the second-row seats are folded.